Hundertwasser Arts Centre
Whangarei is finally home to the colourful and spectacular Hundertwasser Arts Centre. 25 years ago the late architect and artist Friedensreich Hundertwasser designed this Arts Centre as a way of recycling an old harbour board building. His design was a gift to the city but it was not accepted at that stage. He then designed the Toilet facilities at Kawakawa. They are hugely popular with locals and international visitors. Every year 250,000 visitors flock to these toilets to see his work.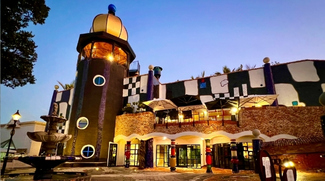 Fast forward 25 years and we finally have this incredible building located at the waterfront in Whangarei. This Arts Centre also houses a large collection of Hundertwasser's work as well as New Zealand's only dedicated Maori Art Gallery.
We highly recommend a day trip to experience the Town Basin and the Arts Centre. Make sure to book your lunch table at Aqua restaurant before heading in.
Friedensreich Hundertwasser was an Austrian visual artist who had a very original and unruly artistic vision. This vision expressed itself in many different ways and the common themes in his work utilised bright colours, organic forms, a reconciliation of humans with nature, and a strong individualism, always rejecting straight lines.
In architectural projects, he implemented window to right and tree tenants, uneven floors, woods on the roof, and spontaneous vegetation.