Waipoua forest and the giant Kauri trees
Many of our guests choose to take a day and visit the magnificent Kauri Forest in Waipoua Forest. This forest is found on the West Coast. It is a 90-minute scenic drive to visit these ancient forest giants, but for anyone who appreciates BIG trees, it is well worth it.
Stand beneath and marvel at Tane Mahuta (Lord of the Forest) – New Zealand's largest known living Kauri Tree. This tree is believed to have begun life around 2000 years ago! There are several easy, short walk options into the forest, as well as an interesting visitors centre. Don't miss the Kauri Museum!
Visit Te Mahuta Ngahere the second largest Kauri tree hence also known as the Son of Tane. Enjoy an easy 20 min walk into the forest to see this tree. Once you enter this forest it will seem like stepping back in time. Almost as if you might be the first visitor to this ancient part of Northland. Opposite this track, you will find and info centre with the history of the forest and district.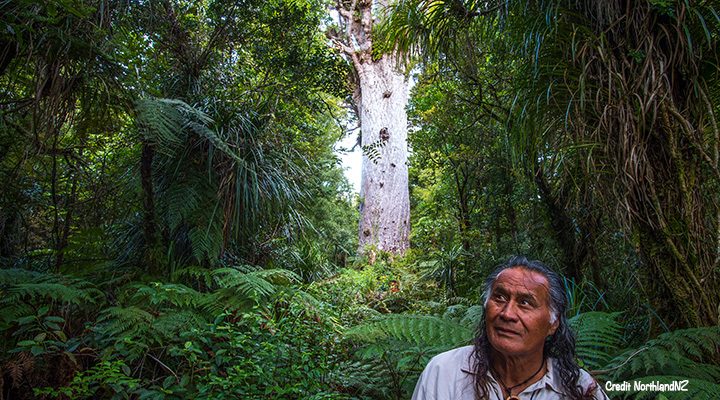 Hokianga harbour
About half an hour after you leave the Waipōua Forest and the giant kauri trees you arrive at Hokianga Harbour. As you drive over the hill the long, turquoise waters of Hokianga lies stretched out below you.  Dazzling sand dunes can be seen on the northern headland ahead of you. Welcome to Ōmapere!
The southern shore has plenty to offer the visitor. you will find cafés and craft shops in Rāwene – one of New Zealand's quaintest towns. There are also several important historic sites, including a number of the oldest churches in the country.   Make sure not to miss the Hinuera stone statue of Opo the dolphin outside the famous Ōpononi pub. Opo was a female bottlenose dolphin who delighted New Zealanders by apparently seeking out and enjoying human contact in the shallows off Ōpononi in the summer of 1955 to 1956.
Ancient Kauri Trail
Follow the road through the Kumara Capital, and feel the sea spray on your skin as you reach the ruggedly beautiful West Coast beaches. Further north, the ancient living forests wrap their deep green embrace around you. These mighty trees have supported lives and livelihoods for centuries. But despite their immense size and strength, these giants are also fragile. Humans have harvested their precious timber and gum over the centuries, and have now come to protect these great guardians of the forest…
Download the Ancient Kauri Trail Map here